Catalogues from Russells in Randburg
1 Locations
Russells catalogue
Valid: 6 Nov until 3 Dec
This Russells catalogue filled with specials is still valid for 4 day(s). View the latest offers from Russells and save on purchases at Russells.
Russells locations in Randburg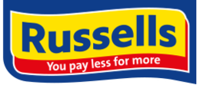 Russells
Shop 3 &4 Randburg City 2194 Randburg
Russells addresses and opening hours in Randburg
Here you will find all Russells addresses and the corresponding opening hours of Russells in Randburg. As a result, you always know whether the Russells in your area is open during a shopping Sunday or shopping evening in Randburg and you will not be faced with a closed door. In addition to this information, you will also find the latest Russells catalogue in Randburg and current offers, so you never miss a discount. If you are looking for more information about the Russells in Randburg or nearby, we can also refer you to the Russells website.
Frequently asked questions about Russells
Show all...